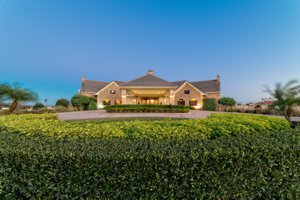 The Eagle Creek neighborhood is a popular choice for those searching for a home in the heart of the Lake Nona area. It consists of many single family homes & townhomes in country club living featuring fantastic amenities and a friendly neighborhood feel. It's a neighborhood that many can find their footing in because it offers a peaceful, nature atmosphere with a community that brings family together.

It's luxury living for the nature-lover, the golfer, and the family-oriented person featuring an upscale community, a championship golf course, community pools, and scenic views. If you're looking for your next home in Orlando, the Lake Nona area of Eagle Creek is hard to beat. Here is a look at what you'll enjoy while you live in this incredible neighborhood.
The Eagle Creek Lifestyle
Eagle Creek is country club living in the heart of Lake Nona. There are a variety of home styles from single-family options to apartments, all with access to the plethora of amenities that come with living here.

Along with community pools and playgrounds, families will love the Eagle Creek clubhouse, the scenic views, and the 4 and ½ star golf course. Children can attend new area schools from kindergarten through high school including Eagle Creek Elementary School, Lake Nona Middle School, and Lake Nona High School, all a part of the Orange County School District.
Eagle Creek Amenities
Residents of Eagle Creek are thrilled to be a part of the lively lifestyle offered in Eagle Creek. The kids are nearby excellent school options and the evenings and weekends are full of family time spent on the trails, the tennis courts, and at the restaurants offered at the clubhouse.

Golfers will love playing at the 18-hole championship golf course, shopping at the pro shop, and enjoying the lounge after a round. Children will love to spend time on the playgrounds, at the two community pools, at the tot lot, and of course enjoying the amenities of the 14,000 square feet Eagle Creek clubhouse.
Eagle Creek Home Choices
There are many distinctive home options in Eagle Creek for a variety of needs. The homes come in different styles but all share a traditional European village setting. Many choose to live in a luxurious single-family home for their growing family, typically two stories in height and spacious with 2-3 car garages. They typically run from 2000 sq. ft. in size up to 3,000 sq. ft. in size.

Others prefer the styling of a golf villa, town home, or an apartment. All who live here will enjoy the lakes and fairways of Eagle Creek after crossing the famous stone bridge entrance leading to the main clubhouse and championship golf course. The community is built for families, those that want to live surrounded by nature, and those that like having fun things to do without leaving their neighborhood.
Choosing Eagle Creek
Or families that are seeking a peaceful environment where they'll enjoy the good life of luxury, community, and being one with nature, Eagle Creek is the perfect option for many. The heart of Eagle Creek is located at 9758 Eagle Creek Center Blvd in Orlando where you'll find a gated neighborhood with staffed attendants, a community recreation center, beautiful landscape, and the golf course.

If you're looking for a neighborhood where you can bike with your family on scenic paths, enjoy a round of golf at a championship course, live in a luxurious home with a lake or forest view, and still have close access to local shopping and dining, Eagle Creek is a great option for your family. It's located on Narcoossee Road just two miles south of Exit 22 on 417 near Medical City.