Lake Nona › Schools
Lake Nona Schools and Education Facilities
The outstanding schools in Lake Nona provide an academic environment from pre-school all the way to college and beyond. Below is a list of schools and educational facilities in the Lake Nona area.
Preschools & Daycare
Primrose School

Opened in August of 2012, The Primrose School of Lake Nona creates a safe and nurturing environment for its students and prepares them for a the future by blending two leading philosophies of teaching. This Balanced Learning curriculum is what sets Primrose apart from other preschool programs. 407-982-5567.

Ladybird Academy
The Ladybird Academy of Lake Nona combines preschool early learning and education with
high quality child care for children ages 6 weeks through 12 years. The academy is purpose built in every way to provide a bright and spacious setting with classrooms that are fully equipped for each age range. Outside play areas are designed with impact absorbing safety surfaces plus a wide range of interesting play equipment for everyone. 407-273-4331.
The Learning Experience
The Learning Experience offers child care to children from six weeks to five years old and is a complete child development center with a dynamic and fun environment and is committed to quality care and education of your child. 407-313-0791.
Building Brains Academy Language Immersion Preschool
Building Brains Academy is located near Lake Nona in Saint Cloud. This preparatory preschool provides curriculum with a STEAM focus and high levels of academic excellence.
Elementary Schools
North Lake Park Community School

Sharing a building with the YMCA, right in the heart of the NorthLake Park community, Northlake Park Community School provides outstanding education to students from kindergarten to 5th grade. An A rated school for over 10 years, students are provided with a strong academic foundation in which to prepare them for future challenges. 407-852-3500.
Moss Park Elementary

Located just inside the Northshore at Lake Hart community, Moss Park Elementary provides its students with A rated school curriculum to broaden their minds through core academics, technology, athletics and fine arts. A variety of activities from fine arts to Spanish to clubs is available to students. 407-249-4747.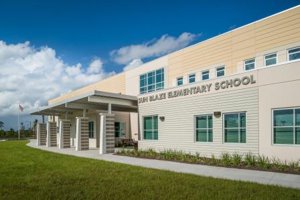 Sun Blaze Elementary School
Located just inside the Randal Park neighborhood, Sun Blaze Elementary was the third elementary school built in the Lake Nona area and is just down Dowden Road from the new Middle School that is currently under construction in the Storey Park Neighborhood. 407-203-5110.
Eagle Creek Elementary School
Located just outside the Eagle Creek neighborhood, Eagle Creek Elementary is diagonally across Narcoossee Road from Lake Nona Middle School. 407-930-5592.
Laureate Park Elementary School
Located inside Laureate Park, Laureate Park Elementary is Lake Nona's newest elementary school. Students at this school advance to Lake Nona Middle School. 407-730-8730.
Middle Schools
Lake Nona Middle School

Opened in the fall of 2011, the state of the art Lake Nona Middle School offers a 21st century curriculum supported with cutting edge instructional technology. Athletics offered include basketball, track, soccer and volleyball. Clubs and organizations students may join include intramural sports, digital school newspaper, SGA, Math club, runners club, science Olympiad, jr thespians, book club, chess club and art club among others. 407-858-5522
Innovation Middle School

Located in the Storey Park neighborhood on Wewahootee Road, Innovation Middle School serves the Northeast area of the Lake Nona area. Currently scheduled for opening the fall of 2017, students at this new school will advance to Lake Nona High School upon graduation.

High School
Lake Nona High School
Students at Lake Nona High School can get a jump start on their college education with the Collegiate Academy. In
partnership with Valencia College, which is conveniently located next to Lake Nona High School, students can take select college level courses. Credits earned can be used to all Florida colleges and many schools outside of Florida. It is even possible for some students to complete enough credits to receive the Associate in Arts (A.A) degree. The school also offers a health academy as well as a digital media academy. 407-956-8300


The Lake Nona Lions athletics offers a wide variety of options to students including: Football, cheer-leading, basketball, bowling, cross country, flag football, golf, lacrosse, soccer, softball, swimming, tennis, track, volleyball, water polo, weightlifting and wrestling. Additionally, there are numerous clubs and organizations at the school for just about every type of personality. A sampling of clubs include the: book club, chess club, chorus, model UN, ping pong club, robotics club, SGA, Spanish club, thespians, yearbook, dance and garden club.

Colleges
Valencia College

Opened in the fall of 2012, the Lake Nona campus of Valencia College is an 85,000 square foot facility built upon 23 acres next to Lake Nona High School. The campus features 18 classrooms, 2 computer labs, 6 science labs, learning support services area, a campus store, cafe, library and beautiful outdoor courtyard for special student events. Valencia College offers a variety of degree and career programs which allows Lake Nona students to potentially go from pre-school all the way to associates degree right without ever leaving Lake Nona 407-582-7100.
UCF Health Sciences Campus in Medical City
Opened in 2010, the Burnett School of Biomedical Sciences in Medical City provides quality UCF undergraduate and
graduate programs in the biomedical sciences and build excellent research programs focused on cancer and cardiovascular, neurological, and infectious diseases. The 5 story building provides over 250,000 square feet of research space and multiple teaching laboratories. The facility will eventually have a faculty of over 50 with over 2400 undergraduates and more than 130 graduate students in MS and PhD programs.
*Please note: The inclusion of businesses, individuals, groups, associations and links listed on this site does not imply endorsement by site owner. We make not endorsement, express or implied, of any businesses, individuals, groups, associations or links to or from this site. We are not responsible for the content or activities of any linked sites.