No current listings, please check back later.
Meridian Parks - Lake Nona
Living in Meridian Parks
This new Lake Nona area neighborhood is being developed and built by Mattamy Homes, the builder of the popular Randal Park neighborhood just Northwest of Meridian Parks. Meridian Parks will eventually be home to over 4,000 families and will focus on art, parks and technology. The community will feature multiple amenity centers with pools/splash pads, event lawn with amphitheater and scenic walking and biking trails that wind through parks, playgrounds and neighborhoods.
Meridian Parks Features Video:
The Four Pillars of Meridian Park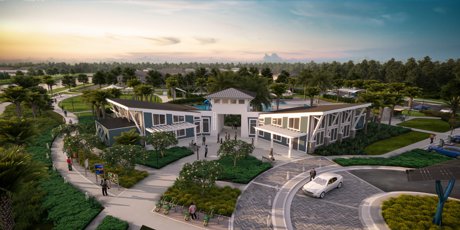 Art - Semi Permanent Outdoor Exhibits, Commissioned Art, Gallery Nights, Revolving Artwork.
Technology - Public Wifi, Bikeshare, Charging & EV Stations, Amazon Locker.
Parks - Grass Expanses, Playground, Shaded Structures & Seating, Fenced Dog Parks
Nature - 630 Acres of Conservation Area, Neighborhoods Intertwined Amongst Natural Landscape.
Where is Meridian Parks?
Meridian Parks will be located - off the new extension of Dowden Road that will eventually connect up to Innovation Parkway. It will be just past the Storey Park neighborhood.
Homes Available in Meridian Parks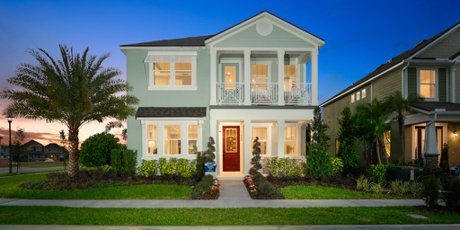 All properties including single family homes and townhomes - are being built by Mattamy Homes. Mattamy was the builder of Randal Park in the Lake Nona area. There will be 5 townhome models to choose from and 10+ single family home models. Homes will run from Mattamy's Signature series to their Estate Series Homes. The two story, 3 bedroom townhomes offered will range from 1,548 to 1,916 sq ft while the single family homes will range from 3 to 4 bedrooms and range in size from 1,609 to 3,223 sq ft.
Virtual Meridian Parks Home Models Tours (linked if available):
The Arcadia - Single Family Home, 3 Beds, 2 Baths, 1571 Sq Ft
The Ashbury - Townhome, 2 Story, 3 Beds, 2.5 Baths, 1548 Sq Ft
The Aurora - Townhome, 2 Story, 3 Beds, 2.5 Baths, 1476 Sq Ft
The Belmont - Single Family Home, 2 Story, 3 Beds, 2.5 Baths, 1609-1719 Sq Ft
The Brighton - Townhome, 2 Story, 3 Beds, 2.5 Baths, 1680 Sq Ft
The Bristol - Single Family Home, 2 Story, 3 Beds, 2.5 Baths, 1606 Sq Ft
The Caledon - Single Family Home, 2-3 Beds, 2 Baths, 1651 Sq Ft
The Camden - Single Family Home, 1 Story, 3 Beds, 2 Baths, 1755 Sq Ft
The Castlefield - Townhome, 2 Story, 3 Beds, 2.5 Baths, 1772 Sq Ft
The Catalina - Townhome, 2 Story, 3 Beds, 2.5 Baths, 1678 Sq Ft
The Catalina II - Townhome, 2 Story, 4 Beds, 2.5 Baths, 1678 Sq Ft
The Devonshire - Townhome, 2 Story, 3 Beds, 2.5 Baths, 1862 Sq Ft
The Fremont - Single Family Home, 2 Story, 3 Beds, 2.5 Baths, 2037-2043 Sq Ft
The Jasmine - Single Family Home, 2 Story, 3 Beds, 2.5 Baths, 1993 Sq Ft
The Laurel - Single Family Home, 1 Story, 4 Beds, 2 Baths, 2238 Sq Ft
The Laurel II - Single Family Home, 2 Story, 4 Beds, 2 Baths, 2879 Sq Ft
The Martina - Townhome, 2 Story, 3 Beds, 2.5 Baths, 1659 Sq Ft
The Newbury - Single Family Home, 2 Story, 4 Beds, 2.5 Baths, 2311 Sq Ft - Video Tour
The Newport - Single Family Home, 2 Story, 3 Beds, 2.5 Baths, 2424 Sq Ft
The Pinnacle - Single Family Home, 2 Story, 4 Beds, 3 Baths, 2373-2649 Sq Ft
The Shenandoah - Single Family Home, 4 Beds, 3 Baths, 2629 Sq Ft
The Watermark - Single Family Home, 2 Story, 3 Beds, 2.5 Baths, 2769 Sq Ft
The Watermark II - Single Family Home, 2 Story, 3 Beds, 2.5 Baths, 3223 Sq Ft
The Winthrop - Single Family Home, 2 Story, 4 Beds, 2.5 Baths, 2952 Sq Ft
Phase One of Meridian Parks Sitemap