Roseville Corner - Celebration
Living in Roseville Corner

Roseville Corner is the small neighborhood that ties three larger Celebration neighborhoods together.  Residents of Roseville Corner can enjoy all of the parks of South Village, East Village and Artisan Park by just taking a short stroll out of their door.  Celebrations Memorial Park with it's garden resides in Roseville Corner.

Roseville Corner was once home to a rose garden hence the name.  Trails beginning in the Memorial park wind around Artisan Park, through a long stretch of beautiful Florida scrub and emerge at the World Drive entry into Celebration, where a sidewalk leads right to Celebration High School.

Where is Roseville Corner in Celebration?
Roseville Corner is one of the smaller neighborhoods in Celebration.  It is South of South Village, West of East Village and is bordered by Green space to its West.  The entryway into Artisan Park, a pond and green space mark its Southern edge. View a Google Map of Roseville Corner in Celebration.
Homes Available in Roseville Corner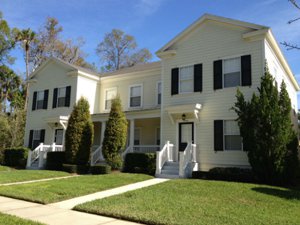 The homes in Roseville Corner are smaller bungalow homes. Some of these homes will look like the ones in a movie. You will find uniquely designed duplex and triplex homes. It is a wonderful option for first time home buyers, vacation homes, investors and smaller families.