Plenty of new stores, restaurants and developments seem to be popping up throughout Lake Nona. From the new stores at Lake Nona Landing to the possibility of Cricket, there's plenty in store for this area of Central Florida. Here's a quick look at some of the things coming to Lake Nona Soon.
New Stores and Restaurants at Lake Nona Landing
After opening in January with both a Sam's Club and a Walmart Supercenter, Lake Nona Landing has been growing with new stores and restaurants like crazy. There are several new options coming to the area including:
Panda Express
T-Mobile
Pet Smart
Jeremiah's Italian Ice
Rise Pies Handcrafted Pizza
All of these stores and restaurants have been reported as opening soon by Tavistock.
Lake Nona Town Center Hotel Coming Soon
The plans for a 16-story hotel at the Lake Nona Town Center were recently released. The hotel will feature 215 rooms and will be included in the next phase of the town center. It will be a full-service option with plenty of luxury for business professionals and leisure travelers.

Construction on the hotel is expected to start in early 2018. The hotel will be found in the premier dining, shopping and entertainment district of Lake Nona. It will be designed by Arquitectonica with a sleek exterior, ballroom, rooftop pool and lounge and much more.
Futuristic Shopping Center from Google's Intersection
The Tavistock Group recently announced a partnership with Intersection, a sister company of Google, in creating a Digital Master Plan of the Lake Nona Town Center. This plan will provide many technological features making it easier to optimize the dining and shopping experience for those in the area.

It includes a Wayfinder, which will make finding stores easier and it also includes technology to make parking easier. The two companies will work together for about nine months to create this Digital Master Plan for the town center. It will certainly help to keep Lake Nona on the forefront when it comes to technology.
Cricket Coming to the Lake Nona Sport District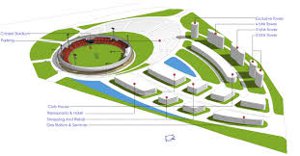 Cricket is currently undergoing an expansion in the United States through the U.S. Cricket League. Orlando was one of the cities chosen by Global Sports Ventures as a potential place for a team. One of the sites on the list is Lake Nona because of the sports district.

Since the sports district has plenty of undeveloped land, it would be easy for Global Sports Ventures to come in and create a Cricket complex. Tavistock has been trying to attract a professionals sport association and has already reeled in the USTA and the Orlando City Soccer Club. Cricket could be the next big sport to hit Lake Nona and it could bring plenty of unique fun with it.

There are plenty of new things coming to Lake Nona soon. Many new stores, restaurants, a new hotel and so much more are coming to this area of Central Florida. Lake Nona is certainly growing and remaining on top of the latest technology in the process.