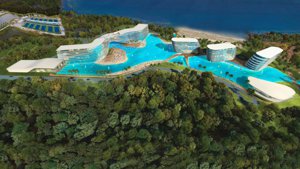 Lake Nona has become known for master-planned communities and innovation all across the country. Tavistock Development has been behind the many unique designs and modern amenities offered throughout the area.

One of those innovations coming very soon is called the Lake Nona Performance Resort & Spa. It's expected to provide 250 guest rooms with an additional 80 condos Arquitectonica out of Miami will be designing the resort.
Why is it a Performance Resort?
Since the resort will go into a location very close to the USTA National Campus, the district is being called the Lake Nona Performance District. Since this is the case, the resort will follow suit and will include large guest rooms perfect for stretching and fitness equipment. Even the mattresses will be fitness-designed to help with recovery after training.

The resort is expected to include many additional touches to cater to athletes and those looking for a place to train and recover. It's expected to be a bit of a home-away-from home for those training in the area. In addition, the resort will feature a 24-hour fitness facility, on-site nutritionals and sport-focused TV programming.
Plenty of Fun Awaits
Along with the ability to train and recover, athletes staying at or living at the resort will be able to have plenty of fun. The Lake Nona Performance Resort & Spa is expected to feature a crystal lagoon and a 120,000-square-foot beach volleyball venue. The lagoon will cover about 15 acres and will provide lounge chairs and more. It will allow those staying to enjoy swimming paddle boarding and even sailing.
The Goals of the Resort
The resort will be found within the Tavistock master-planned community and will provide incredible views of the crystal lagoon and Lake Nona. The resort provides three main goals for guests:
Performance - It has been designed to provide just what athletes need to perform better and become the best they can. Quick-turn laundry will be available for on demand service, along with a kids' area with healthy activities, a fitness and spa campus and even a 24-hour Technogym-equipped fitness center.
Nutrition - To perform at your best, you need to be fueled properly. Customized menus for pre and post workout recommendations will be provided by an on-site nutritionist, along with full food and beverage services including sport drink stations, juice bars and an on-site garden.
Recovery - Another key to performance is recovery and the resort will cover this fully. The large mattresses are designed for incredible sleep and all rooms will have blackout shades and circadian lighting features. Even the locker rooms will feature amenities for recovery, such as aromatherapy, a world-class spa and more.
It's all wrapped up into one incredible resort for athletes and others looking to perform at their very best. The resort will even offer a large rooftop lounge for meetings, a huge ballroom for events and several restaurants throughout the campus. More than 100,000 guests are expected to visit the resort yearly once it opens in 2020.