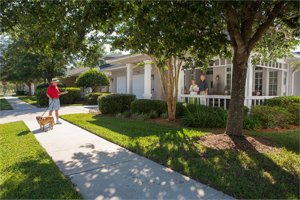 Your retirement should be a time when you can live in a home you love and in a destination you love. Many retirees have dreamed of owning a certain type of home and now they are ready to buy. However, they could easily make a few mistakes and end up wishing they'd never moved.

While pre-planning for your retirement and the home that's right for you is important, you also want to be aware of the mistakes of those that have gone before you. Here are some of the top mistakes made when retirees decide to buy their retirement home.
They Don't have a Plan
Sure, you've saved for retirement and put away money for years, but do you have a plan for selling your current home and buying the next one? Maybe you haven't even come to an agreement with your spouse on the location of your retirement home. Before you retire, take time to think about what you really want out of the home and the location.

Florida is a very popular retirement destination and offers more than just golf and good weather. However, if you don't have a plan, it could end up as just a pipe dream.

In addition, many retirees think they will sell their home and buy an RV to travel. However, if you've never lived in an RV or even vacationed in one, you may be in for a rude awakening. Take the time to create a plan, test out the RV (if that's on your bucket list) and consider the possibilities.
Consider the Home Financing Options
In a perfect world, you'd sell your current home and use the proceeds to pay for the next home. However, it's not a perfect world and many reach retirement still carrying a mortgage on their home. Then, they don't think enough about the future before they put a huge amount of cash down on the next home.

It's best to sit down with a financial adviser before you sell your home and buy your retirement home. While you may not need a mortgage during retirement, you may want to make sure you're not house rich and cash poor. An adviser can help protect your assets and your cash to ensure you're set up for success.
Underestimated Home-related Expenses
Even without a mortgage there are expenses you must consider. Make sure you can afford more than just the sales price of the home. You will still have to pay taxes, deal with maintenance, cover lawn care and pay for insurance on the home.

Sometimes, choosing a 55-and-over community is a good option as you may not have to handle as much maintenance. However, these communities have fees you must pay for the maintenance, which must be considered.
Buying Based on What You Make Now
During retirement, you may have a pension or some sort of income, but it will likely be far less than what you have now. Many retirees make the mistake of buying a home based on what they make before they retire. This can set you up for failure, especially if you take out a mortgage.

There are several mistakes a retiree can make when buying a new home. Make sure you sit down with a financial adviser first and then work with a good real estate agent in the area you want to live in. This will help to ensure you get the advice you need to enjoy retirement without added stress.